There is a meeting of the Diers-Families with ancestors from Heidkamp/Heidkamperfeld in the Ammerland near by Oldenburg.
The oldest Person named Diers of the Heidkamp-Farm is

Johann Diers, * 1635 in Heidkamp - 03.1680 in Heidkamp.
With his wife from the Emje-Farm he had a daugther, who inherited the farm.

This daughter Anne Diers, * 1668 - 12.1750 in Heidkamp
married Frerk Schröder from Borbeck (village next to Heidkamp).

Their daughter Talke Diers * 08/13/1691 - 09/17/1714 in Heidkamp
inherited the farm and married Jürgen Öltjen from Heidkamp. He called himself Jürgen Diers.

Their first son was called Friedrich Diers * 01/03/1709 - 11/27/1786 in Heidkamp.
He inherited the farm and married Wübke Bruns

They called their first son also Friedrich * 12/13/1746 - 07/23/1785 in Heidkamp.
He married Grethe Meinardus from Oldenbrok. They had seven children:
Wübke Margarethe Diers * 11/18/1772 - 12/20/1852
Margarethe Diers * 10/25/1774 - 12/11/1777
Friedrich Diers * 05/05/1776 - 06/17/1843
Hinrich Gerhard Diers * 03/10/1778 - 02/25/1783
Johann Hinrich Diers * 04/09/1780 - 07/05/1783
Jürgen Diers * 02/10/1782 - 10/11/1862
Margarethe Elisabeth Diers * 07/03/1785 - 05/19/1835.

While Friedrich Diers as the oldest son became the farm-owner, Jürgen Diers built up a new farm in Heidkamperfeld.


On February the 24th 1935 started the first Diers-Family-Reunion in the Gasthaus Blohm in Metjendorf. 66 people attended, who were all descendents from Jürgen Diers.
The meeting was organised by the teacher (Johann) Heinrich Diers(02/20/1894-10/03/1980). After the war he became a famous author in Lower German dialect and was the first president of the
Ollnborger Kring
an organization who takes care of the language of Lower German until today.
After the war he organized five Diers-Family-Reunions(in brackets the number of participants). Nowadays he is honored with a street name in Oldenburg.
2. on 05/15/1955 in the Müsselkrug in Borbek (152)
3. on 08/21/1960 in the Hof von Oldenburg in Rastede (191)
4. on 06/07/1965 in the Etzhorner Krug in Oldenburg-Etzhorn (168)
5. on 09/06/1970 in the Gasthof Karl Rabe in Wiefelstede (185)
6. on 05/16/1976 in the Schützenhof in Oldenburg-Eversten (214)
From 1980 - 1996 Jochen Imlau organized the Diers-Family-Reunions
7. on 08/02/1981 on the Jürgen-Diers-Farm in Heidkamperfeld (193)
8. on 08/10/1986 in the Gasthof Rabe in Wiefelstede (200)
9. on 09/15/1991 in the Hof von Oldenburg in Rastede (148)
10. on 08/24/1996 in the "Hof von Oldenburg" in Rastede (175)
From 2001 on Dirk Rode organized the Diers-Family-Reunions
11. on 08/04/2001 by Wöbken in Hundsmühlen (133)
12. on 07/08/2006 on the farm of Helmut and Ute Diers in Ohmstede (194)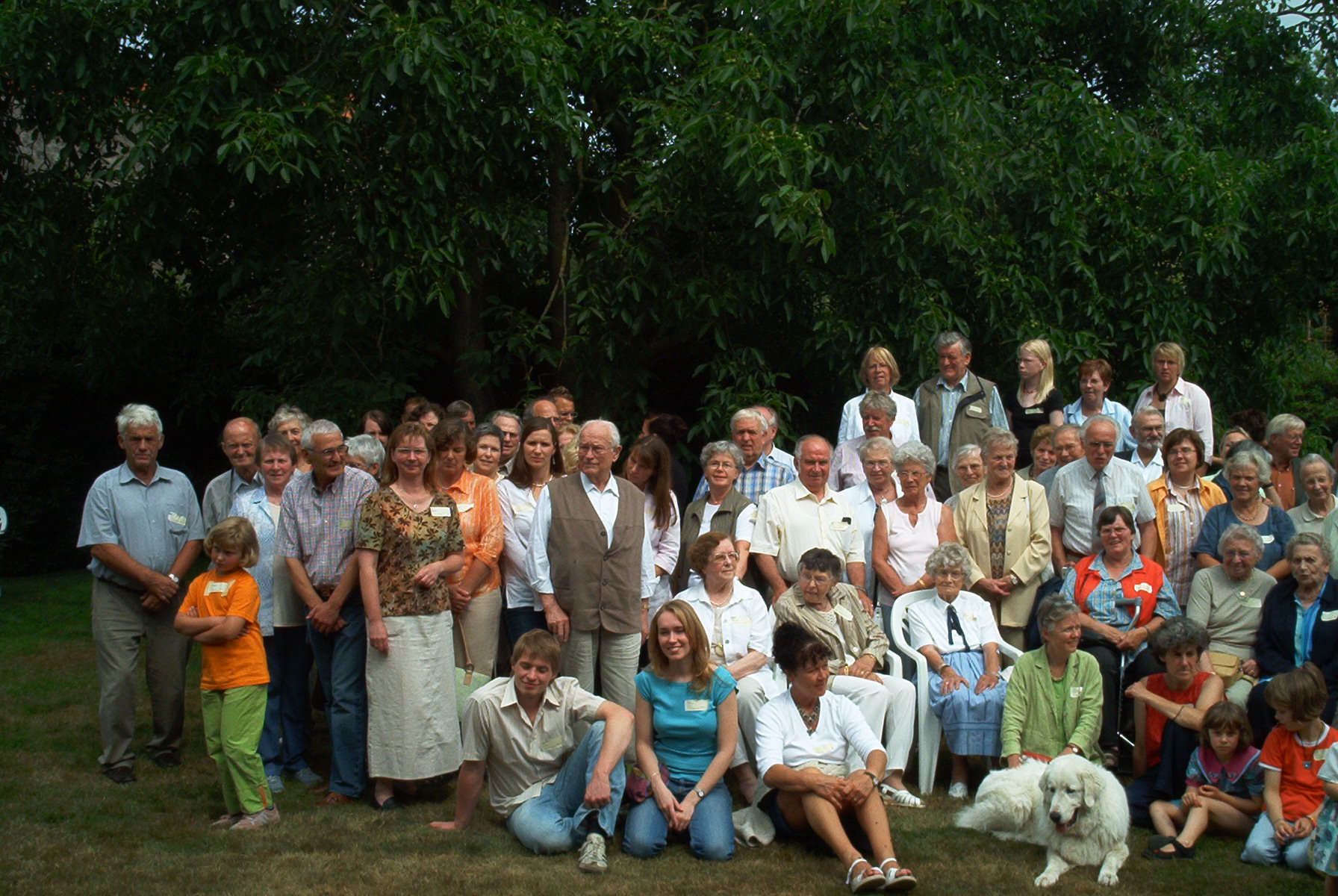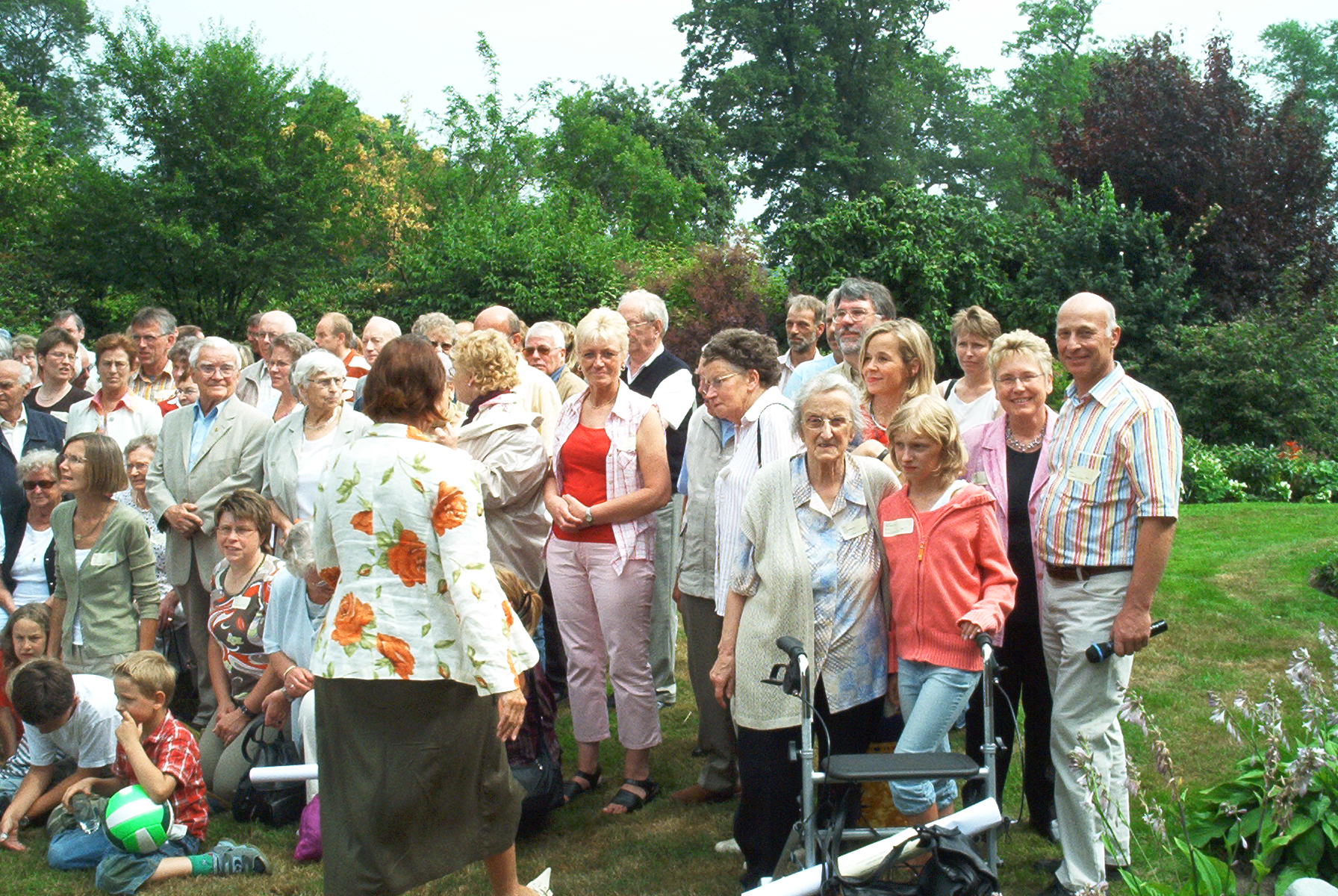 13. on 17/09/2011 by Martens in Bokel (129)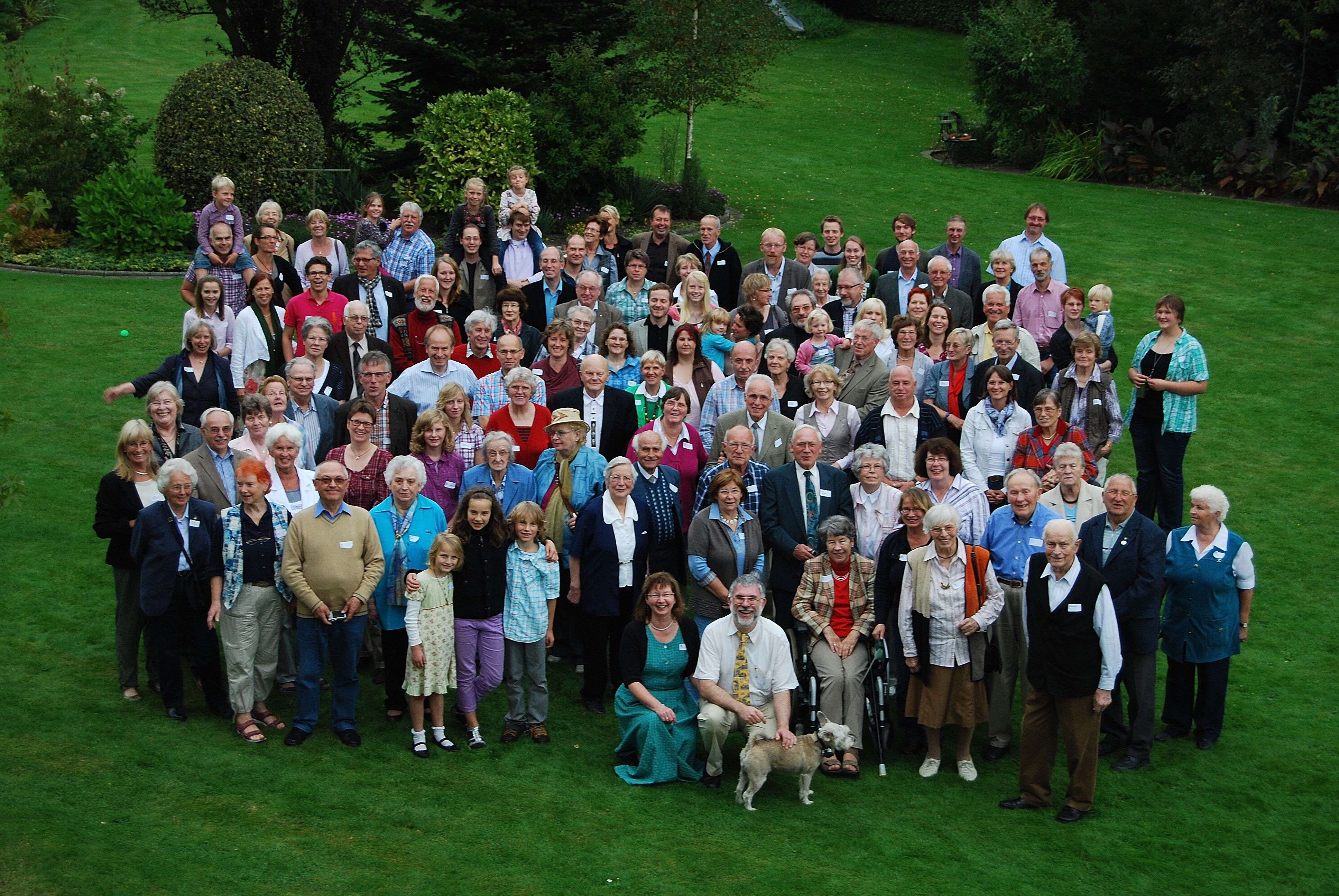 14. on 06/08/2016 in Godensholt, Ammerland (90)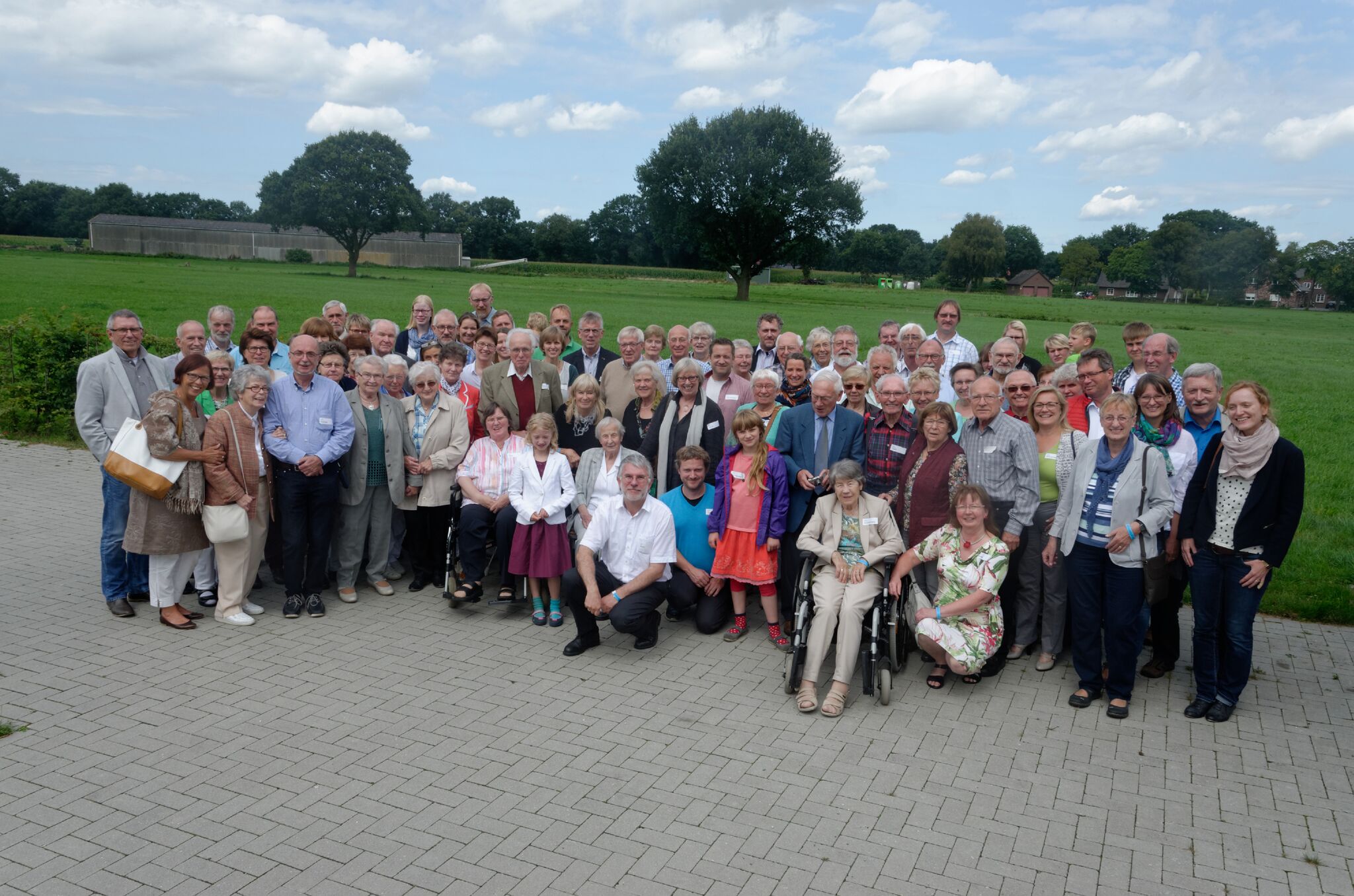 The 15th Diers-Family-Reunion will be on Saturday 17th of July 2021 on the original farm in Borbeck/Heidkamp, Wiefelstede.


********************************************************************************************************************************
For our American Diers-relatives who want to visit this Family-Reunion we will offer some interesting things around this day.
First you should arrive in Germany on Friday 16th of July 2021 because on Saturday morning we plan an English guided tour to Wiefelstede, visiting the Lutheran church. On Sunday 18th of July is the possibility to visit other Diers-Farms in the region. On that afternoon there will be a guided tour thru the City Of Oldenburg from Manfreds wife Gaby Friesen.
On Monday 19th of July we will offer a visit to the Emigration-Museum in Bremerhaven. Most of your ancestors emigrated to the USA from this port.
For those interested in history we might offer on Tuesday a tour to the site of the battle between the Romans and the Germanic peoples in the year 7 a.c. or an excursion to the remains of he stoneage in our area. Our program would end on that day. On Wednesday we suggest a trip to our capital Berlin or any other place you might have on your list.
For realizing this program we need to know until the end of this year(2020) if you would be interested in participating. Please write an email to manfred_ub40(at)yahoo.de. After that we will provide you with hotel recommendations. ********************************************************************************************************************************

The Diers-Family-database
In the following database are only the Diers-Ancestors:
⇒ The ancestors of the Diers-Family, shown with the PAF-Program
In this PDF-File are 11 generations starting with Dirich Recker * 1560.
The PDF-Files of the branches A1 to K4 could be ordered if there is a relationship.

⇒ 11 Generations Recker-Diers
In this PDF-file you find the Recker-Family with the Diers-branch and the explanation for the origin of the name Diers.

⇒ Recker-Diers PDF-file
This file contains the Recker-Family back to Ebbeke Recker * 1400. The data are calculated from old documents.

⇒ Recker-Family starting 1400