The GO-Game
The GO-Game is a game from China and the oldest boardgame of the world.
In my opinion it's also the best boardgame. From difficulty of logic you can compare it with chess. But the playing rules are very easy to learn.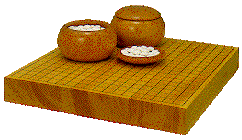 Who is interested to learn something more about this game could look here on the site of the American GO-Association.